Choose this BOV for excellent performance, installation flexibility, and one of the most recognizable and intimidating blow off sounds on the road. This BOV uses a Greddy Type S style flange and is also similar in style.
There are some very important things to consider before purchasing a blow-off valve:
Do you need to recirculate your BOV into your intake? Check out our article on BOV myths right HERE.
Do you REALLY understand how a BOV works (not just what it does!) and how to install and adjust it properly? Check out our article on BOV myths right HERE.
Do you trust your BOV supplier to have a thorough understanding of the products they sell, make sure you know exactly what you are getting, and ship quickly and perfectly? You can trust us. You can tell reading our articles above that we know what we are doing, and if you don't want to take our word for it on the shipping, just check out some of our testimonials right HERE.
Compare to our other blow-off valves:
| | |
| --- | --- |
| Boost Strength | Medium - Up to 20 PSI |
| Ease of Installation | Lots of installation extras included with this BOV. |
| Versatility | Uses Greddy style flange - easy to find but not included. Two springs that can be used separately or together, two options for reference source, and ability to recirculate. |
| Prestige | Such a menacing blow off sound! Unfortunately this design is one of the most widely used, so it's not a very unique sound. |
What's Included?
BOV
2 sets of screws, washers, lock washers and bolts for mounting to flange
1 Gasket for mounting to flange
1 boost T, can be used for tapping into your reference line
50" of boost/vacuum line
Why should I choose this BOV?
You want classic, proven performance from a well accepted and widely used BOV.
You have heard the sound of this BOV on the street and you liked it.
You need to recirculate your BOV to your intake. (Will also work just fine venting to atmosphere.)
You are not sure what kind of vacuum you are running at idle so you need a wide range of adjustment.
Your car is already set up for a Greddy BOV, or you have a Greddy flange already.
You want a good assortment of installation extras at a great price.
You want a good all-around BOV.
Installation Notes:
There are actually two reference ports on the back of this BOV. The larger one (on top) is the regular reference port to be connected to the intake manifold. The lower port is meant to be connected to a source in your intake before the throttle body to help the BOV open more quickly and be louder, but we doubt this really works. We recommend leaving the lower port alone with nothing attached to it.
If the reference ports are pointed in an inconvenient direction, you can remove the 6 bolts on top of the BOV and rotate the top part of the BOV until the ports are facing in a better direction, then reassemble. Use caution when removing BOV top as the spring will try to throw the top in your face.
Special Notes:
WARNING! Some online BOV sellers have been selling a bad batch of BOVs that are similar to these. The piston will not move more than 1/16", which will prevent proper pressure release and potentially destroy your turbo. After one of our customers told us about this problem and sent us the picture below, we immediately checked several of our BOVs to make sure they don't have the same problem. Ours tested perfectly and the piston has the full 1/2" of travel.
Inlet: 1.125"
Outlet: 1.25"
Height: 3.5"
Flange Diagram: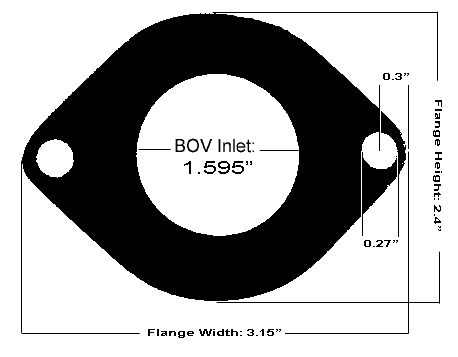 This is not a Greddy product. We are not affiliated with Greddy in any way. This is not a duplicate, replica, knockoff, or reproduction of a Greddy valve - the flange is just identical for your convenience.